With a vibrant and thriving Native American community, Becker County is rich in Ojibwe culture. A portion of the White Earth Reservation lies within the northern part of Becker County. A brief history of the White Earth Nation can be found on their website.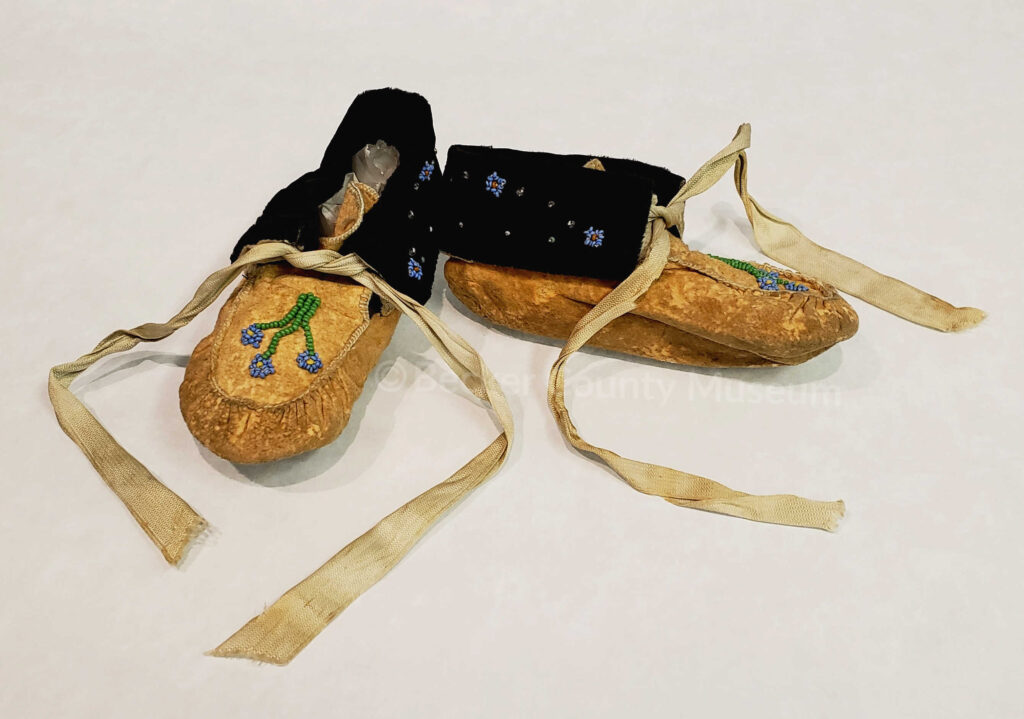 Ojibwe items in the museum's permanent collection are recognizable by the floral motifs in their beadwork. Traditional and contemporary beadwork by Ojibwe artists showcase the natural beauty of the woodlands all around us. Each of these baby moccasins or "makizin", circa early 1900s, feature small blue flowers with yellow and orange centers on a green stalk. Could these represent wild violets or forget-me-nots? Both flowers are among the first to bloom each spring after Minnesota's long, cold winter. Both flowers are blue with yellow and orange centers on a green stalk. Both flowers are known for their medicinal qualities; uses such as treatments for eczema, relief for bug bites, and some varieties are edible or used in healing teas.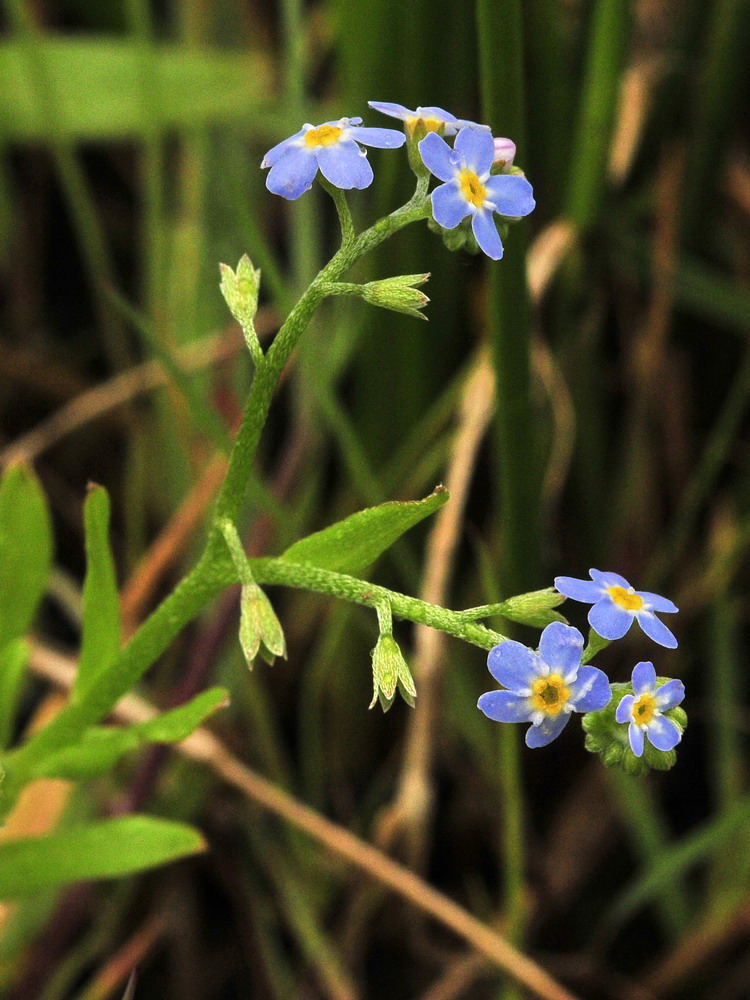 Another indication of Ojibwe origin are the pucker-toe design of the moccasins. The original native name for this pucker-toe design is "ojib" and is widely accepted as the root of the word "Ojibwe". The native people refer to themselves as Anishinaabe. Other tribes had different designs for their footwear, so it was relatively easy to identify the Anishinaabe (or Ojibwe) by their "ojib" moccasins. It takes patience and skill to stitch leather into an evenly curved pucker in an adult-sized moccasin. Imagine the detail and care that went into stitching a tiny pair!
With a soft ribbon tie and a black velvet cuff, these moccasins would have been very gentle on the little newborn feet for which they were created.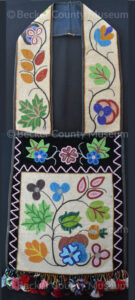 Another Ojibwe item in the museum's collection with a floral motif is a bandolier bag. A bandolier bag or "aazhooningwa'on" is a beaded shoulder bag with a wide strap. These bags are worn either across the shoulder and on the hip or around the neck with the bag in front like an apron.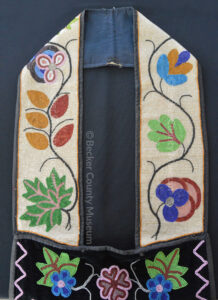 Close up photos of this bandolier bag show several easily identifiable maple leaves. While some of the flowers are more stylized, the maple leaves show a close attention to natural details such as leaf shape and veining.
It seems important to the original artist that the maple leaves be exact replicas. We might imagine that the artist lived among maple trees or had a special connection to maple trees; perhaps participating in sap-collection or syrup and sugar making at "sugarbush", the seasonal camp in the springtime when maple sap runs and can be boiled down into syrup and sugar.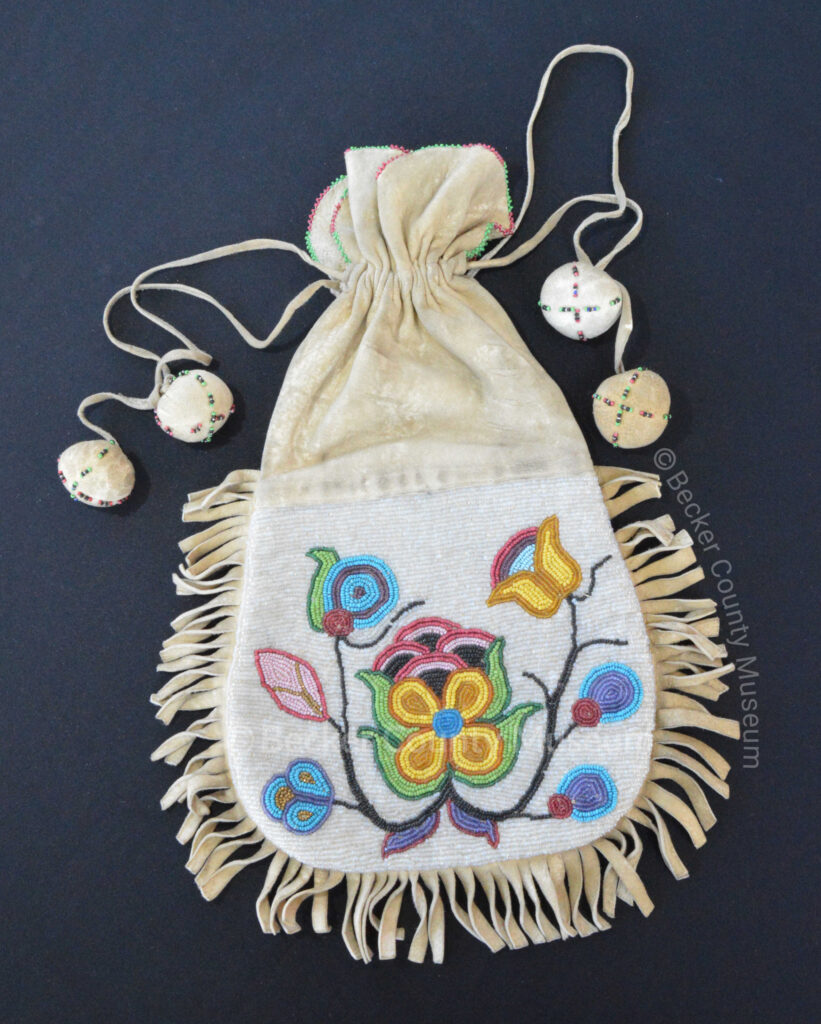 Shown here is a cinched-top leather tobacco bag or "gashkibidaagan" from the museum's collection. It is beaded on both sides with a leather fringe trim and a cinch closure. Wrapped leather balls with glass bead decorations are on the ends of the cinch ties.
The floral motif is stylized, though I bet you've already recognized the yellow tulip. Ojibwe woodland floral designs include flowers, leaves, vines, berries, grasses, plants, and foods like wild rice.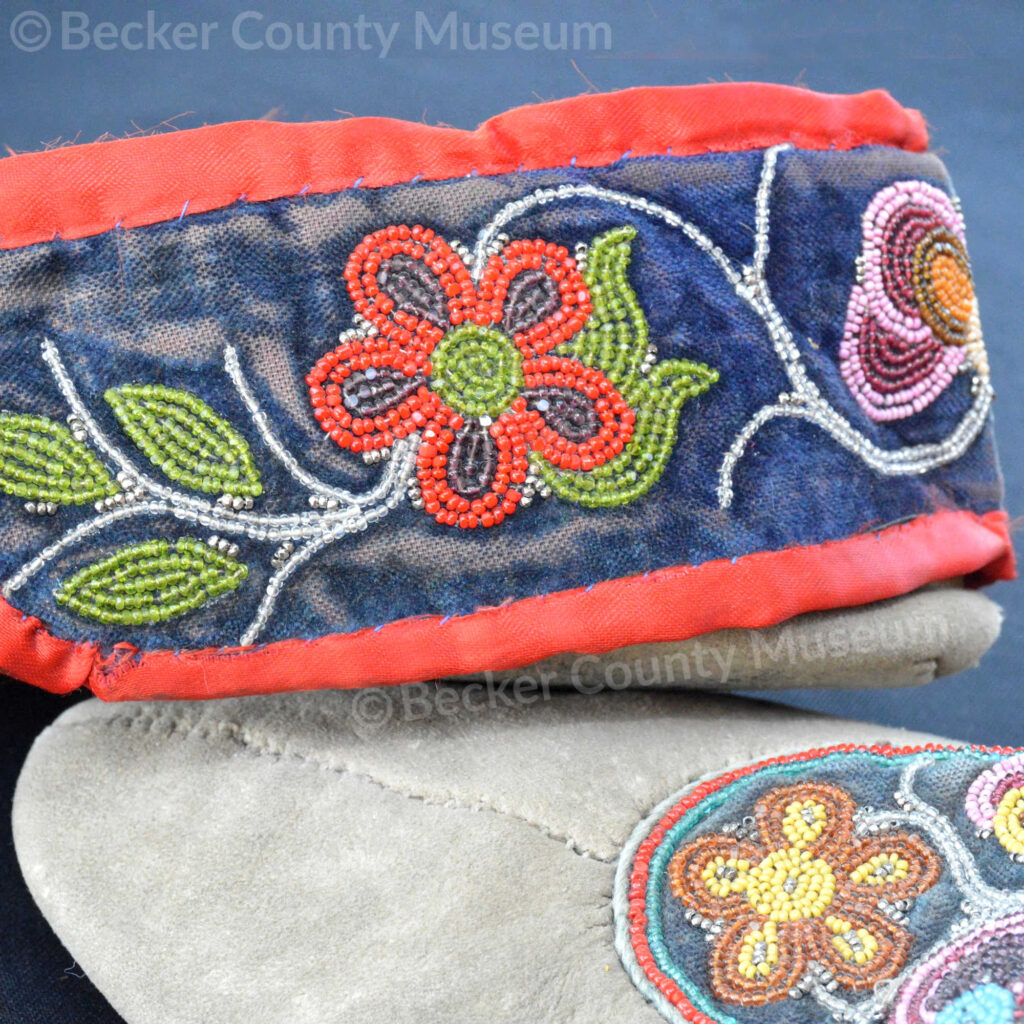 This post began with floral moccasins and we will end with floral moccasins, though this time, they are adult sized. The pucker-toe of these moccasins is still visible, but there is also a seam through the middle of the foot to the toes, creating a pointed shape. This pointed shape and the round shape (as shown earlier in the baby moccasins) are both of Ojibwe/woodland tribes design.
The five-petal flower is a common motif in woodland tribal florals and can occur in any color combination, with or without accompanying leaves.
These items are currently on display in the museum's exhibit gallery along with more pieces representing the rich cultural heritage of Becker County's history.
Emily Buermann, Programs Director of the Becker County Museum, is an enrolled member of the White Earth Nation and author of this article.
Classroom Curriculum: