Your museum has been all a-buzz with many projects all happening at the same time! As we make our transition to autumn, here's a new newsletter update with all the projects we've been working on – and a look ahead at all the projects coming up.
Moving Preparations Begin!
Following the spring melt and those first summer rains, the Becker County Courthouse offered secure storage for our most vulnerable artifacts. Two of our current storage rooms, Tax Records and Military Uniforms, were deemed most at-risk. With the help of local Scout Troop #674, thousands of books and dozens of uniforms were transported all in one day! THANK YOU to our Scout friends! The tax records and uniforms will remain at the courthouse, safe and dry, until we move them into our new facility.
Police Station Photo Project
Helping out a neighbor is especially fun when your new neighbor is the new Police Station! Chief Todd asked us to assist with historical police photos and just look at how cool their photo project turned out. Thanks to this project, we were able to add a few new photos to our archive.
Sesquicentennial: "sess-cwuh-sen-ten-ee-uhl"
We've gotten very familiar with the proper pronunciation of "Sesquicentennial" around here! Celebrating the 150th anniversary of the City of Detroit Lakes and the 150th anniversary of Becker County provided many opportunities to celebrate history.
During the City Sesquicentennial Birthday Bash on July 29th, among all of the other fun festivities, a time capsule was buried! It had spent the summer here at the museum and was filled with items representative of life in DL in 2020-2021. Among the many items included were a mobile phone, business directories, bus tokens, Laker gear, pins and mugs, a pickleball, face masks, letters, and even some really great homemade art by a preschooler who will be thrilled to see the time capsule dug up and opened as an adult during the city's Bicentennial in 50 years.
The 150 Sails Up in DL project created 75 large sailboat sculptures and 75 small sailboat sculptures for public display. Three of those sculptures are currently housed at the museum; Emily Buermann (Programs Director), Becky Mitchell (Museum Director), and Emma Mitchell (Becky's daughter) were just three of the many artists for the project. Becky's sculpture "Re-Imagine" will be a permanent art display for the museum. Emma's sculpture will transfer into private collection and Emily's sculpture will be auctioned at the "I Am Becker County: A Celebration of Heritage" festival on September 25th. Stop into the museum for a map to all 150 sailboats!
The DL Sesquicentennial exhibit is currently on display at the museum. Over 50 banners detailing 150 years of history in Detroit Lakes cover early settlers, natural disasters, and industries from fur trading to plasma laser cutters and much in between! We invite you to visit and view the exhibit which will be on display through the autumn into the winter.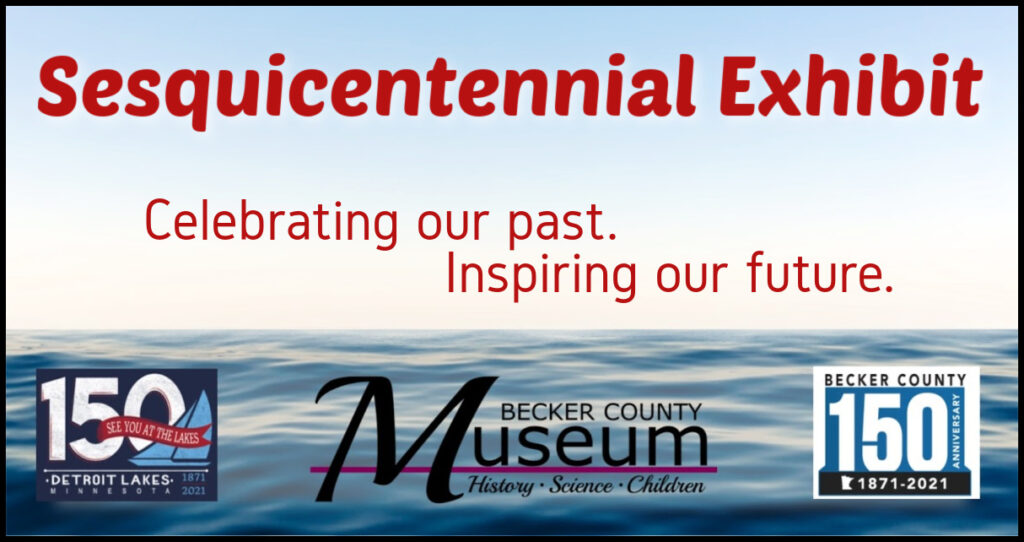 New Museum Groundbreaking
Ground was broken on our new facility on a chilly morning in May. Supporters and friends gathered to celebrate history in the making! Soon after, a safety fence went up and the construction crews began their work. It's a very exciting time and sometimes a little challenging – for us and for our neighbors. We appreciate the patience and understanding of our entire neighborhood while work continues.
A live webcam allows anyone to peek in on the current progress from day to day. You can view it any time on our home page. Currently, our shared lobby with the Holmes Theatre is nearing completion. A new staircase has been installed and the railings for the staircase and the new upper level walkway (which will eventually lead you to our 2nd floor!) are being installed. Here's a sneak peek at the new railings!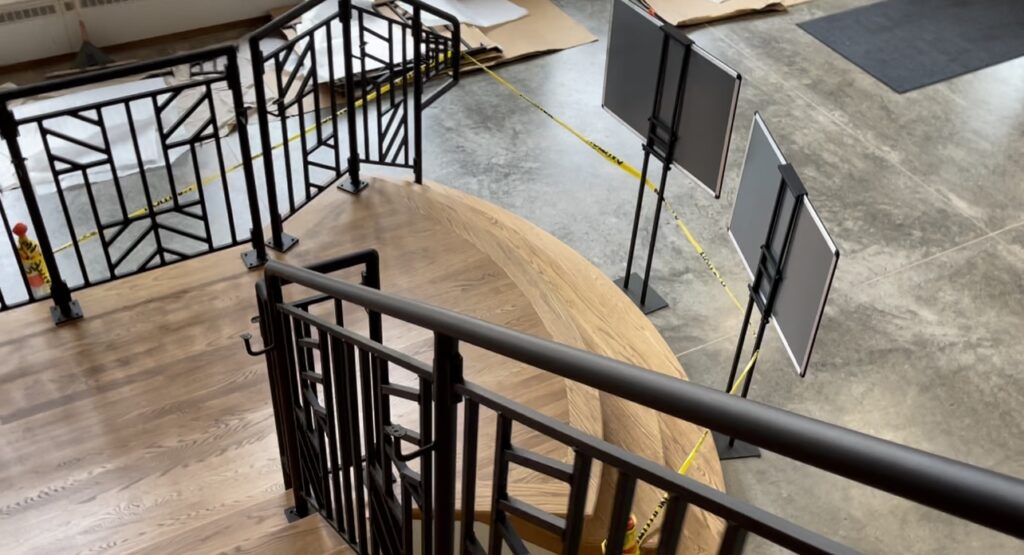 It's still too far out to say for sure, but pending shipments of steel, an ease in lumber shortages, and more little details than you can imagine, we anticipate a Grand Opening for our new museum in late summer 2022!
Summer Camps
We hosted 11 summer camps in 14 weeks this summer! Thanks to sponsorship from TEAM Industries, some camps were available with a very low-cost registration and two of those camps were held inside an amazing mobile classroom! All of our summer camps are STEAM focused: Science, Technology, Engineering, Art, and Math with a focus on local Becker County people, industries, and history. Our goal is to keep students engaged and learning all through the summer months.
Becker County Fair
Earlier in the summer, we partnered with Northern Bedrock Historic Preservation Corps to spruce up the pioneer cabin at the fairgrounds. "Renovating" a historic cabin calls for very specific materials and procedures, so after locating just the right logs and shingles, the Corps began the task of chinking and daubing between existing logs. The logs and shingles were locally sourced and sawn by our friends in a local Amish community. A new concrete walkway was designed, installed, and poured as an Eagle Scout project by our friends from Scout Troop #674. (Remember them from the tax records/uniforms project?) It all culminated in a much more secure, more accessible pioneer cabin for our visitors to experience at the 2021 Becker County Fair.
Sharing Stories With All Ages
We partnered with the Detroit Lakes Library for Stories & Crafts throughout the summer. This program was aimed at preschoolers and their families. The Book Bike would make its way to the museum, Eliza would read a storybook aloud, and museum staff would help guide kiddos through a fun craft.
We also partnered with the Cormorant Lutheran Church for a Stories & Stones event held at their cemetery in July. Many months of research and preparation by our staff and the Cormorant Lutheran team created a wonderful event celebrating the stories of ten remarkable lives lived and the incredible 150 years of history of their church.
Two New Books Published this Summer
Filming with Prairie Public and TV3
As if all of this wasn't enough to keep our staff busy, we also filmed spots for Prairie Public and TV3! You can view those using these links.
Memorials
In memory of Cookie Borstad from Bob Hatlestad.
In memory of Darrell Sorensen from Carrie & Dave Johnston.
In memory of Ray Heino from Fred Floan.
In memory of Sally Oja from Ward Benshoof.
In memory of Sally Oja from Lee & Nancy Brekke.
In memory of Dorothy Grabow from Tom & Cathy Fritz.
In memory of Gerald Price from Roger & Sharon Josephson.
New and Renewing Memberships
Thank you to the following individuals and businesses that have renewed or joined the Becker County Historical Society and Museum with memberships for 2021+. Your support helps continue our mission of "Preserve, Connect, and Explore through Exhibits, Education, and Programming".
Moriya & Sam Rufer Family, Laurie Lewandowski, Judith Meyer, Donna Mueller, Jodi Ahles, Angela Tjaden, Cecil Ballard, Steven & Barbara Baily, Virginia Weston, Budd Parker & Bruce Engebretson, Sharyl Ogard, Lucille Randolph, Rikki Given, Heart O'Lakes Geneological Society, Kathe Schaffler, Grant Christensen-Joyner, Susan Dodd, Julie Joslyn, Fred & Palma Wright, James Donehower, D&D Appliance Inc., Terry Koenig, Arlene Novak, Arvid Sisell, Harley Olson, Carol Grina, Teri Netelak, Morrie Kershner, Mary Larson, Alison Colby, Lakeview Township, Savannah Township, Beverly Olander, Betty Wilson, Richard Campbell, Anne Trost, Michael Leitheiser.
Coming Up at the Museum
A Celebration of Heritage hosted by the museum at the Pavilion on Saturday, September 25th. Craft demos by area artisans, heritage and geneological information booths, live music and heritage presentations on the main stage, food, games, and more! Watch our facebook page for more information.
Haunted House at the Becker County Fairgrounds hosted by the museum the last two weekends of October. This is a spooky fun fundraiser for the museum! Watch our facebook page for more information.
Did you meet Olivia?
Did you meet our summer intern while she was here? Olivia Burnette spent most of the summer here assisting with summer camps, the Becker County Fair, cleaning, organizing, data entry, and more. We had a blast teaching with, learning with, and getting to know Olivia. Olivia is a student at Detroit Lakes High School.